Review the following instructions and tips when accessing the Foundation's online application system.
New Users
When you have chosen the appropriate application link, you will be brought to the Account Log in page.
Click on the "New Applicant" link.
You will be taken to the Account Creation Page and asked to create an email address and password to use as your ID to access the online application.
We only allow ONE account per organization so please make sure to share this information with everyone who needs access to your online application. Applications can be accessed only via the account in which they were started.
We highly recommend creating an organization email such as "grants@yourorganization.org".
Keep a record of your Account Log-in Email and Password as this is the same log-in information that will be used for all future applications and reporting to The Sheltering Arms Foundation.
Returning Users
If your organization has created an account in the past, login with the ID (email address) and Password used at that time.
If you don't remember your password, click on the "forgot password?" link and follow the prompts.
If you need to transfer your organization's account, please contact Diane Grossman at (612) 871-9210 or dgrossman [@] sheltering-arms.org.
Returning to an IN-PROGRESS Application
If you have signed into an application and have passed the eligibility quiz, you have an in-progress application.  To return to an application already in progress, click "Grantee Account Login" from the home page to access your application.  You do not access the application through the 'start application' section.
How to Start a New Application
To start a new application, click on the appropriate application link located on the Start Application area of the website.
Eligibility Quiz
After signing in or creating your account, you will be brought to an eligibility quiz.  If you are eligible to apply for funding, you will be directed to the application.  If you fail the quiz, please contact the foundation to verify you qualify for funding.
Begin Working on Your Application
Tip: If your computer has been idle for more than 30 minutes while you are in the process of completing your application, the application will time out and you will lose your information. This will also happen if you have been on the same page of the application for 30 minutes without any movement in the system.
Please note that the application does not auto save as you go. It is highly recommended to complete your work in WORD or in a separate document and copy and paste information into the online system. Or, click on the Save and Finish Later button at the bottom of each page. You are then brought to your My Account Page and can click on the in-progress application to continue working.
At the bottom of any page you can save your work to continue the application at a later time by clicking the button labeled SAVE AND FINISH LATER.
You will be brought to your "My Account Page" where you will see the name of the application and the date it was last updated.
To exit the application, click "log out" on the top right corner of the screen.
Retrieving a Saved Application
To return to an application already in progress, click "Account Log-In" from the home page to access your account.
When you are in your account, make sure the drop down box on the right is set to in-progress applications. You will see your application listed below the "Application Name". Click on the application you would like to edit. That page should look something like this: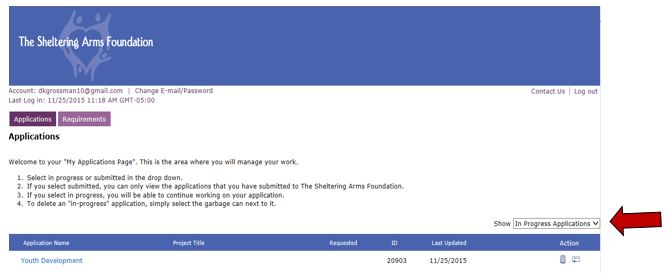 Preparing your Budget Document
Please review the recommended budget format on our website. Please provide the full program budget, along with the expansion piece of that program for which you are requesting from Sheltering Arms (if appropriate), along with how Sheltering Arms funds would be allocated.
Example: You have a STEM after-school program and wish to add an additional day of ARTS programming. You would provide the Full STEM budget, the expansion piece of adding the ARTS programming budget and the SAF allocation.
If this is for a new program that has never been implemented by your organization, you can omit the expansion piece column.
When attaching your budget document, please make sure you are submitting the program budget for the appropriate grant time period (July 2019 – June 2020) not your current program budget.
Preview Your Application Before Submission
When you have completed your application, click the Preview Before Submission button at the bottom of the page. You will be able to review your application before submitting it to the Foundation.
Remember to upload your attachments before submitting your application!
When you hit the Submit button – the application is final and can no longer be edited.
The online system automatically generates an email to the account holder address every time an application or requirement is saved or submitted.
You will receive an email to confirm that your application was submitted successfully.
Tips:
Be sure cookies are enabled on your internet browser.
Remember to keep a record of your account log-in Email & Password – this Email and Password will be used for all future requests and reporting to Sheltering Arms Foundation.
Add the following email addresses to your address book to ensure that you receive our automated emails from The Sheltering Arms Foundation:
dgrossman@sheltering-arms.org.